On 14th June Alexio Picco, Managing Director at Circle Group & Technical Manager for the EALING Project, will present at TOC Europe On Shore Power Supply in Europe: the EALING Project and the challenges ahead, deepening challenges and objectives of an harmonised approach to Onshore Power Supply implementation in the TEN-T Network.
TOC Europe will take place in physical format on 14th, 15th & 16th June at the Ahoy, Rotterdam and the speech will be held inside the session Port Infrastructure & Interoperability.
REGISTER HERE
DISCOVER THE AGENDA
Discover the session – Port Infrastructure & Interoperability
As ports & terminals become more integrated into the supply chain, their role in maritime trade is evolving, from vessel parking areas to logistics facilitators. Alongside this change also comes the adaptation of their infrastructure facilities and connections.
The modernization of port & terminal infrastructure, including its connectivity to the hinterland, is pivotal to improve interoperability and the integration of inland waterways into a global trade network. Additionally, other trends driving this process include the need for maritime infrastructure to be smart, digitally connected to the supply chain network, as well as energy efficient to guarantee the reduction of carbon emissions and the sustainable development of their surrounding communities.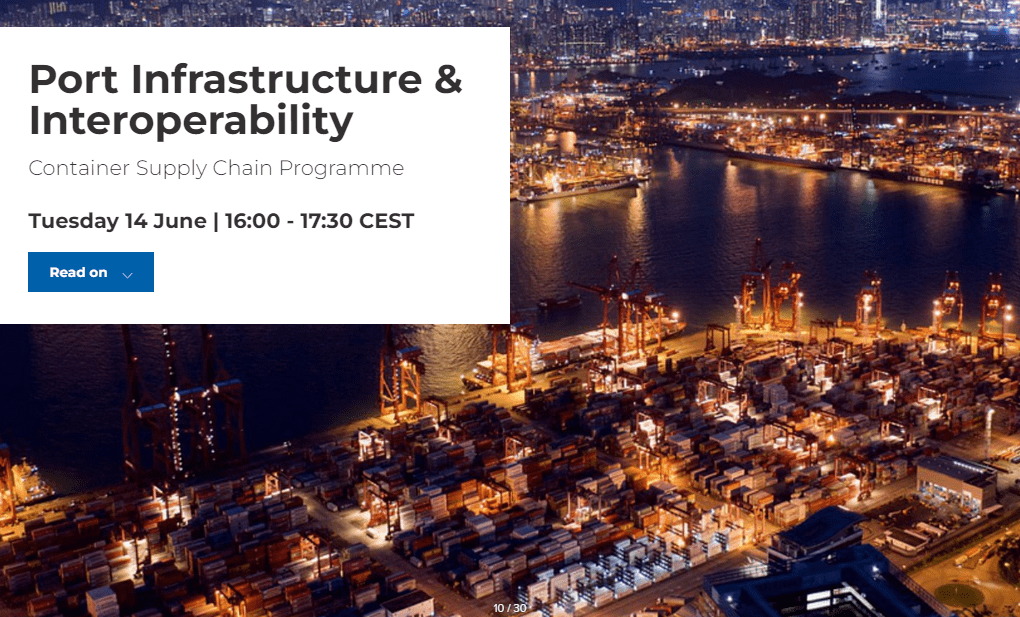 While these trends pose substantial challenges for the industry, there are significant infrastructure projects taking place both in and outside of Europe that should boost infrastructure evolution and bring maritime trade to the next level. Furthermore, with trade routes constantly changing, investing in infrastructure presents an opportunity to develop new trade routes and increase ports' competitiveness, at regional and even global scale.
Key Talking Point
What are the main trends driving the modernization and expansion of port infrastructure in Europe? How are these enhancing connectivity and sustainability across the sector?
What are the main infrastructure projects for ports & terminals in and outside of Europe?
How can infrastructure modernization enhance interoperability in the maritime & logistics sector?
Port-city synergies: What are the infrastructure requirements to properly integrate ports with their surrounding communities?
Can the modernization of port & terminal infrastructure effectively reshape the landscape for current trade routes?
Speakers
Moderator | Martin Mannion, Ports Director & Expert, Mannion Marine Limited
On Shore Power Supply in Europe: the EALING Project and the challenges ahead | Alexio Picco, Managing Director, Circle Group & Technical Manager, EALING Project
Ricardo Arten, CEO, Brasil Terminal Porturario (BTP)
Pablo Ruiz del Real, Managing Partner, ALG
Hans Rook, Chairman, International Port Community Systems Association (IPCSA)
Getting it quicker there: cross dock facilities | Jeroen Kats, Project Director – Design and Simulation Services, TBA Group