From 28th to 30th March EALING was at Mediterranean Ports and Shipping 2023 to present its findings for the electrification of ports.
---
Transition to green energy, smart grids and innovative solutions for the electrification of ports are significant elements for the EU decarbonisation strategy towards 2050 goals. The successful transition to a low-carbon economy requires the collaboration and coordination of all stakeholders involved in the port ecosystem. This includes shipping companies, terminal operators, government regulators, and technology providers. Each of these players brings a unique set of skills, knowledge, and resources to the table, and by working together, they can identify and implement innovative solutions that drive down emissions and improve environmental sustainability.
On these topics was focused the EALING presence at Mediterranean Ports & Shipping 2023, where Stefanos Dallas, EU Program Manager at PROTASIS S.A., was among the speakers of the session Mediterranean and European Ports: Adapting to Collaborative Solutions and Innovations to Create a Modern and Efficient Regional Transportation Hub, with the speech titled Enabling the Synergies for the Transition to Greener Solutions in Mediterranean Ports: The "EALING" Project. Dallas presented the latest developments of the EALING project and its advancements in the implementation of Cold Ironing in Ports
DOWNLOAD THE AGENDA
DOWLOAD THE PRESENTATION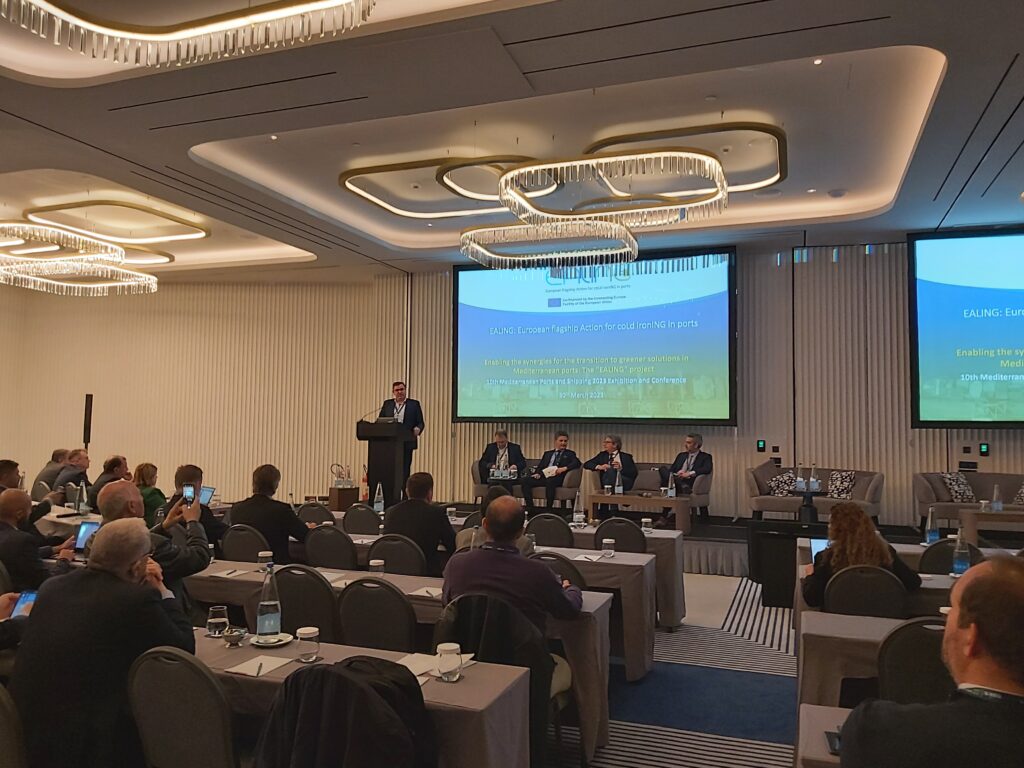 The 10th Mediterranean Ports and Shipping 2023 Exhibition and Conference was set to provide a platform for international and local trade and investment in the Mediterranean maritime region. The event brought together 350 senior government officials, industry principals, academics, and other stakeholders to address topical issues and challenges for the region's transportation and logistics infrastructure.
One of the highlights of the event has been the comprehensive Technical Site Visit to the port arranged by Piraeus Port Authority: an opportunity to witness first-hand the latest technologies and solutions being implemented to facilitate the transition to green energy, smart grids and innovative solution for the electrification of ports.