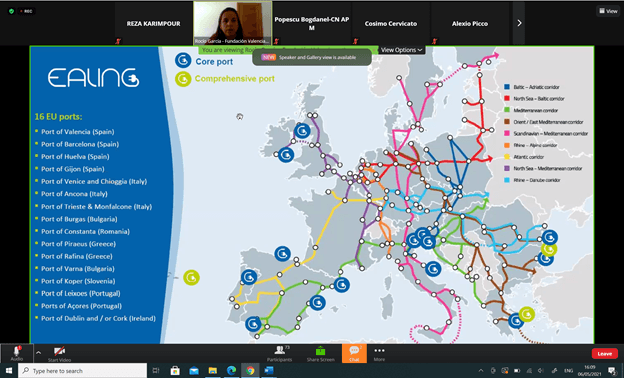 The EALING Workshop with Shipping Lines – Towards a harmonised onshore power supply development in Europe was held on 6th May and it represents the beginning of the interaction path between EALING project, Institutions and Shipping Lines, in the process of definition of a common harmonised and interoperable framework for the development of OPS in Europe. This workshop followed the first EALING Workshop dedicated to the interaction with Ports on the same topics.
The workshop with Shipping Lines – that was a restricted event – had 105 registrants and, with 2:30 of fruitful discussion, it was a great opportunity to highlight the stakeholders perspectives.
Indeed the Institutional Session, chaired by Jérôme Glantenay (CINEA Project Manager) with the participation of Prof. Kurt Bodewig (EU Coordinator for Motorways of the Sea), Pernille Soerensen (Policy Officer, DG MOVE – Unit D1 "Maritime and Transport Logistics), Ricardo Batista (EMSA, Project Officer) and Sotiris Raptis (Maritime Safety & Environment Director, ECSA ) highlighted several points as the importance of a continuous cooperation among ports and shipowners towards green deal objectives and sustainability, the policy options and initiatives to support the uptake of sustainable alternative fuels in EU maritime transport, safety and related technical recommendations, challenges to be faced by the shipping sector as power demand, operational costs, infrastructures.
Then, after a short session dedicated to the project overall presentation and Activity 2 details "Maritime fleet adaptation", the workshop was dedicated to deepen the Shipping Lines and Associations perspectives on OPS from a technical, regulatory and financial point of view: the aim was to gather different contributions in addressing topics like (among the others) the main barriers that make the adoption of OPS onboard challenging, the most valuable mechanism to support emissions reduction for shipping companies/Shipowners through shore side electricity, the relevance of the flexibility in choosing the energy supplier.
An interesting debate was carried out and the outcomes will be included in EALING Activity 2 developments.
AGENDA AND PRESENTATIONS
Welcome addresses
Lambros Nakos, Executive Director, Hydrus (EALING Activity 2 leader)
Part A
Openings by CINEA
o Jérôme Glantenay, Project Manager, CINEA
Institutional Session
o Prof. Kurt Bodewig, EU Coordinator for Motorways of the Sea
o Pernille Soerensen, Policy Officer, DG MOVE – Unit D1 "Maritime and Transport Logistics"
o Ricardo Batista, Project Officer, EMSA
o Sotiris Raptis, Maritime Safety & Environment Director, ECSA
EALING Studies overview
o EALING Studies Rocío García, Project Coordinator, Fundación Valenciaport
o EALING Studies Activity 2 "Maritime fleet adaptation" Astrinos Papadakis, EALING Activity 2 leader, Hydrus
Part B
Moderator : Prof. Dimitrios Lyridis, Associate Professor, National Technical University of Athens
Panel Session
Onshore Power Supply | Technical, Financial, Regulatory framework – challenges, opportunities, recommendations
Interventions by :
o Paul Altena, Manager European Government Affairs, Cruise Lines International Association (CLIA) Europe
o Andrea Rudan, PM Electrical & Automation/ABG Marine Technology , Carnival Corporation & plc
o Dario Bocchetti, Energy and Innovation manager, Grimaldi Euromed

Open Discussion Session – Feedbacks (all participants)
Next steps and EALING contribution Rocío García, Project Coordinator, Fundación Valenciaport